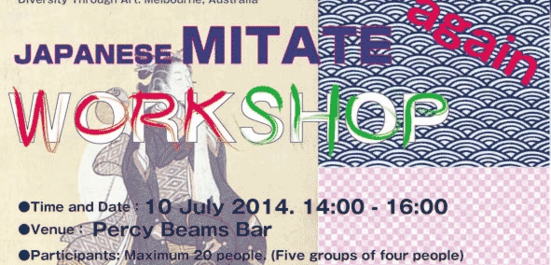 34th World Congress of the International Society for Education through Art (InSEA 2014) in Melbourne, Australia.
The MITATE workshop,again 2014
Date & Time: 10/7/2014; 1400-1600
Maximum Number of Delegates: 20
Participants to bring: Nothing required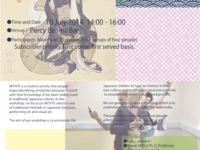 ・Coordinator :
Kazuji MOGI,Ph.D.,Professor of Gunma University
email: kazumogi@gmail.com
Chihiro Tetsuka,Ph.D., Tokyo University and Graduate School of Social Welfare
Maho Sato,Ph.D., Chiba University
Tomoyuki Sowa,Ph.D., Kobe Design University
Chihiro Nakadaira, Graduate School of Gunma University

Abstract
We have developed educational workshop programs focusing on unique and artistic Japanese culture. The aim of our workshop is to encourage the Japanese people to have an interest in their own culture and to introduce Japanese creativity to people from various cultural backgrounds.
In the InSEA regional conference in Canterbury in 2013, we conducted "Mitate Workshop". Mitate is used in Japanese traditional arts for example, Ukiyoe (woodblock prints) and Waka, Haik (poems). In this workshop, we defined Mitate as a creative activity in which people enjoy identifying similarities between A and B using their knowledge and imagination. In order to introduce creativity of Mitate, we asked participants to experience Mitate through creating a stop motion animation with the iPad. As a starting point, we show an image of Ashura (the God of Battle) statue, which is one of Japanese national treasures and has an interesting body shape so that participants can develop their ideas from it. However, the participants could not make a good connection between understanding Mitate and making an animation activity. Therefore, in the InSEA World congress 2014 in Melboln, we are going to improve and conduct Mitate workshop.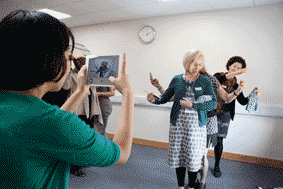 130625_MITATE Workshop@Canterbury, UK_RTV ver.1.1


2014/5/26